25 maja 2022
Virtualbox. USB dla maszyn wirtualnych.
Najpopularniejszy obecnie standard interfejsu komputera – UniversalSerialBus (USB), jest dostępny dla maszyn wirtualnych w Virtualboksie. Dzięki czemu, systemy gości mają możliwość komunikacji z urządzeniami pamięci masowe (pendrive) wpiętymi w interfejs USB gospodarza. W podstawowej wersji programu dostępna jest obsługa starego i wolnego standardu 1.0. Jednak po zainstalowaniu Oracle VM VirtualBox Extension Pack zyskujemy możliwość korzystania też ze standardu USB 2.0 i 3.0.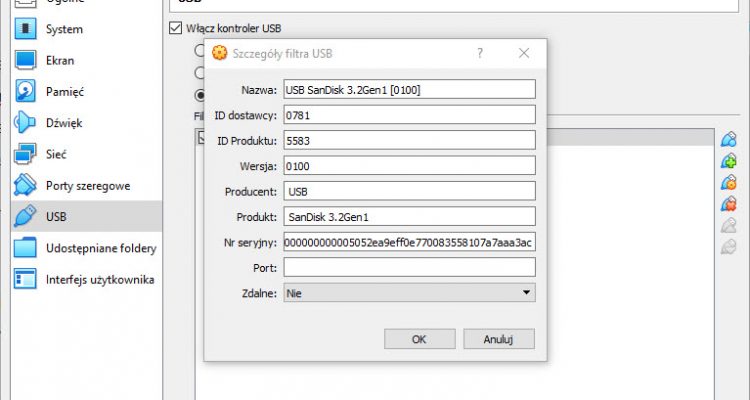 Konfiguracji dokonujemy w menu Ustawienia/USB. Na początek, należy po prostu włączyć kontroler zaznaczając odpowiednie pole i wybrać standard – tu zalecam 3.0 o ile obsługuje to nasz system gościa, jednak jeśli używamy w miarę współczesnego systemu operacyjnego to 3.0 już jest w standardzie.
W dolnej części okna mamy listę filtrów dla urządzeń USB, którą obsługuje się za pomocą małych ikonek po prawej stronie.
Tu warto wyjaśnić co to takiego filtr. Filtr to szablon z kilkoma parametrami urządzenia USB. Filtr ma na celu wpuszczać tylko te urządzenia do systemu gościa, które pasują do filtra/szablonu. Na przykład, jeśli ustawimy w filtrze pole Produkt SanDisk 3.2Gen1 to tylko te urządzenia. które mają ten parametr identyczny, będą wpuszczane do systemu gościa. Innymi słowy wszystkie pendrive'y z rodziny SanDiska, które tak się przedstawiają.
Natomiast jeśli dodamy filtr korzystając z drugiej ikonki i wskażemy konkretne urządzenie z listy (aktualnie wpiętych urządzeń USB) to dodamy filtr z polami wypełnionymi pod to konkretne urządzenie. Czyli, filtr sprawi, że tylko to jedno konkretne urządzenie USB będzie dalej wpuszczane do systemu gościa. Generalnie filtry mają na celu zabezpieczenie, aby maszyny wirtualne miały dostęp tylko do pamięci masowych USB, które świadomie wskażemy w filtrze.
Ostatnie pole "Zdalne" decyduje o tym czy uradzenia USB mają też być dostępne dla maszyn uruchamianych zdalnie poprzez protokół VRDP
Miej jednak na uwadze, że pamięć (pendrive) gdy jest przedzielona maszynie wirtualnej, nie jest wtedy dostępna dostępna dla gospodarza. Aby ponownie mógł z niej korzystać gospodarz, należny ją odłączyć w opcjach Virtualboxa- korzystając z menu USB, najwygodniej z dolnego paska ikonek.
---
Jeśli interesujesz się tematem Virtualboxa to zapraszam Cię do kursu Virtualbox w praktyce – tam poznasz szczegółowo wszystkie najważniejsze zagadnienia programu.
Natomiast jeśli chcesz zautomatyzować swoje maszyny wirtualne to kurs Vagrant w praktyce jest właśnie dla Ciebie.